If you want your content marketing done in a fast and efficient manner, you need an excellent content management system (CMS) in place. Read on to learn what is it and how your business will benefit from it.
Content marketing is an essential element of any business. The ability to easily and quickly communicate with your customers is paramount to your success. According to a 2018 study by Content Marketing Institute (CMI), 86% of B2C marketers consider content marketing a vital strategy, while 91% of B2B marketers use it to reach target consumers.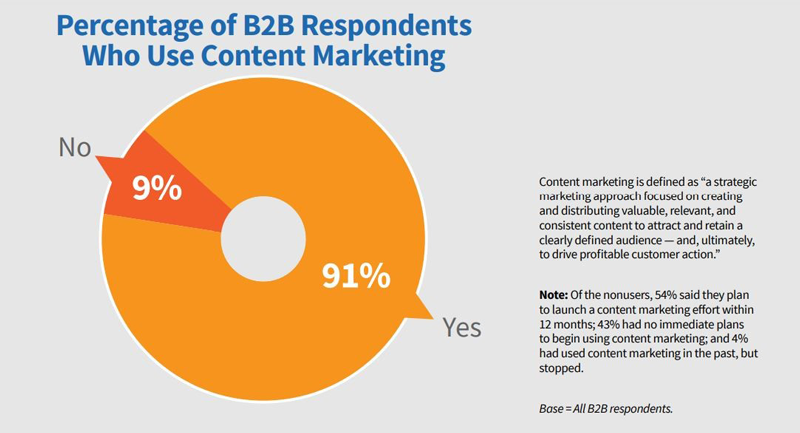 While web creation and updating is a crucial aspect of content management, it used to be a tedious task. Thanks to the development of content management systems, a lot of the common issues had been resolved, allowing businesses to concentrate more on working on the content's quality.
What is a content management system (CMS)?
A CMS is a comprehensive system that can help you create, manage, distribute, and publish your website's content. The system can control and manage all aspects of the content management workflow, from content creation to its final version.
Having the right CMS is important to avoid security issues, slowing down workflows, and costly mistakes. Hence, if you are using an outdated or incompatible system in place, it's important to consider upgrading your CMS.
Aside from managing a content that you upload on your website, a lot of simple content management systems aid in structuring your website to make sure it is intuitive. It can help you create a website that is easy for anyone to navigate and search, which in turn plays a big part in attracting people back to your site.
According to CMI, CMSes are the third most preferred tool used by B2B marketers to manage their content marketing initiatives. 63% of B2B marketers use CMSes after analytics tools and email marketing technology.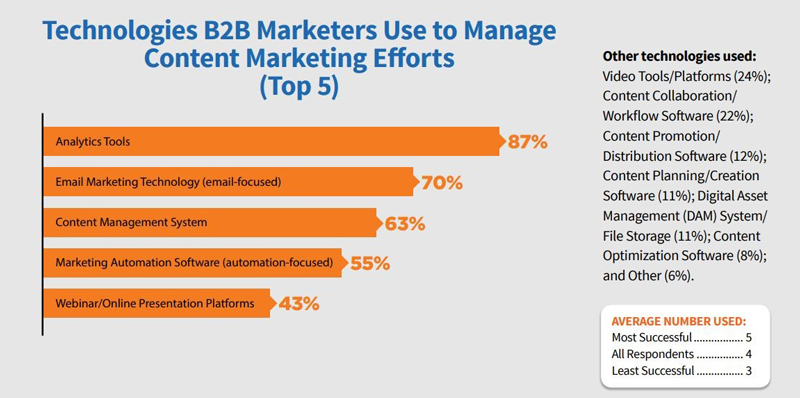 While there's no one-size-fits-all solution for any business, the following advantages of content management systems could make it one of the best investments in building your digital presence.
Technology is revolutionizing content management in various ways. Below are the 5 benefits of a content management system:
1. It simplifies workflow
A simple workflow is essential particularly if you have a large content marketing team where several people have to input into your site.
A digital content management system helps you make sure that every member of the team has appropriate access and can limit some particular areas such as code updating to authorize specialists. Each of them can create, update, and publish content that remains on the draft until a comprehensive check has been made. The CMS sees to it that the content only goes live when everything's ready.
Moreover, the best content management system will provide you the status of all the content at a glance view. It will show you whether the content is a draft, live, or has changes not yet published. Scheduling content is also important is easy to integrate with other tactics in your marketing strategy. Everybody gets to know what's happening and when.
2. It improves security
While a fully secured website cannot be guaranteed, a sound content management system can be regularly updated to address specific security issues. A CMS like Marketpath offers a managed infrastructure which takes care of security, availability, and support. Because they monitor and troubleshoot hosting, downtime, and other potential issues, the user can fully focus on their business without worrying about the infrastructure.
3. It enables site-wide changes
Site-wide changes can be challenging when done on an ordinary static site. In the absence of a CMS, it could mean that you need to trawl through several pages to make changes on each of them. Individual alterations on pages may even expose your entire site to some vulnerabilities and technical issues that are all time-consuming to address.
In contrast, most content management examples come with a single, centralized dashboard where you can perform changes or add components throughout the site all at once. The underlying architecture is the same so modifications done on the administrative dashboard can be done without breaking the website. Changes can quickly propagate to the entire site which gives consistency to its appearance. More advanced CMSes even enables automatic updates.
4. It is easy to use
Some users are uncomfortable when it using technology. Hence, one of the most striking reasons for having a CMS in place is its ease-of-use. It is worth noting that not all CMS solutions are made equal. Hence, not all are easy to use, so you should put this into consideration when choosing one based on your team's skills and experience. Choose a software with basic functions in content creation and publishing that are easy for all users to understand. Marketpath offers a free demo so you can see its features for yourself. Moreover, it is completely free to use until you take your site live.
The best content management system considers the content and its appearance as two separate things. Simply put, you can change the design while you can keep your site functional. According to a study by Adobe, 7 out of 10 companies invest in web design to differentiate their brands. A lot of ready-made templates or themes are available, but there are content management system examples that allow you to customize according to your needs. They are usually simple to implement, enabling you to devote your time in other aspects of your business.
5. It makes instant updates possible
A lot of online businesses regard the speed of implementation as an essential growth factor. Business owners and customers alike expect the quick publishing of valuable content and relevant news. An excellent CMS can provide this as it is usually designed to make content creation and publishing a speedy process.
Instant updates also mean quick removal of published content that is already out of date. If you're running a summer sale promotion, for instance, a web content management system can unpublish the content immediately, before the season ends or whenever you like. All links and menus are automatically updated so you can continue to offer good site experience to your customers. CMSes can also integrate customized content like lists and shared calendars.
Is a Content Management System a Worthy Investment?
Many businesses are reaping the benefits of an effective CMS in the shortest span of time. While it may not be necessary for simple sites, it is still an investment worth considering.
Content marketing is essential in establishing a digital presence and driving site traffic. This means creating new, editing, and removing outdated content regularly is important. With a content management system, you are in control. This places you in the driving seat in managing this vital business tool.
A CMS is also particularly helpful to companies handling vast content, including training materials, videos, user manuals, and other documents. It can help you organize and simplify information management. Lastly, it can assist you in building a user-friendly website from scratch with zero to minimal troubles.
There are a lot of options to choose from. To start, you can check out this Marketpath CMS review page for its features, benefits, and overview. Checking out reviews and comparing different content management systems is key to narrowing down your choices. Find the software that best fits your site requirements, install it in no time, and start employing your content management solution.