Starting and growing any business takes an enormous amount of time, effort, and dedication. So it goes without saying that starting and growing a marketing agency is no different. The great news is that today anyone with marketing know-how can start a marketing agency. But marketing expertise is not enough and launching your new venture comes with challenges that every business owner faces. Below are five essential elements that you must have to be successful.
1. Establish Your Company Vision & Mission
Who do you want to serve? What do you want to provide? Where do you want to go? A lot of information is conveyed in a vision statement and this is one of two important guideposts in your journey. Spend a lot of time on it. One of my favorite authors, Robert W. Bly, wrote a post for Entrepreneur called Vision Statements: Why You Need One and How to Create One. There are tons of resources for crafting your vision statement so don't just stop with one article.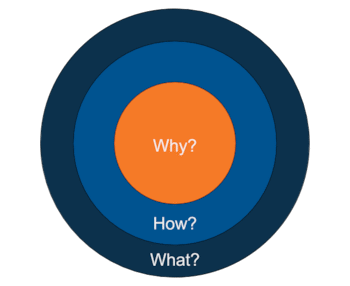 While a vision statement says where you want to be, a mission statement explains why your agency exists, that is, your company's purpose. Here's a step by step guide to crafting a mission statement - How to Write a Mission Statement & Mission Statement Examples.
In Simon Sinek's Golden Circle model, Why is the core of everything. Without an answer to this question your journey, and those of your staff, may lack passion and commitment.
A well-written vision and mission statement helps your employees drive the bus in the right direction. After you create these, be sure to reiterate them often to everyone within your company and explain why they are important.
2. Learn Basic Accounting
One out of every five new businesses fail in the first year and about half of all new businesses fail within 5 years (SBA). Coincidentally, 60% of small business owners don't feel they know much about accounting (G2). You may have some wonderful altruistic purpose for your agency's existence, but without proper accounting and bookkeeping know-how you're probably not going to last very long. Cash management is king and it drives everything.
I don't recommend getting a full accounting degree or anything like that. However, picking up a few books, visiting a few websites, and getting familiar with generally accepted accounting principles (GAAP) would be good. At a minimum, learn how to read a balance sheet, profit and loss statement, and statement of cash flows. These are the report cards for your business and can help you forecast future earnings. You don't have to be a mathematical wizard to learn and understand these, but you should spend some time getting familiar.
3. Find Your Expert Focus
This can be one of the most difficult parts to starting an agency. In the beginning you're trying to win clients and at times you come across opportunities that don't quite fit your vision or mission. Be very careful taking these on. I say this from experience.
We've jumped into low-fit projects in desperation to keep cash coming into the coffers, and long term, they've been huge distractions from our vision. Even if they're high yield, you have to consider the long-term consequences. If I compound these types of projects over time I can easily say they've added years to achieving our vision.
Here are several examples of agencies that have real focus. I love how each of these agencies have honed in on their focus areas and clearly defined this in their vision and mission.
4. Let Process Evolution Happen Naturally
I love Michael Gerber's book, The E-Myth. He talks about focusing on creating seamless processes so your business operates smoothly. From a customer standpoint, I completely agree with this. You should appear competent, professional, and your processes should be smooth sailing for clients. Any process hiccups tend to add abrasions to the overall customer experience.
Then there are internal processes the customer does not see or feel. For example, your sales and marketing processes, billing process, project management processes, and other internal operational processes. It's here that you should focus on building processes that are "good enough." These processes sit below the line of perfection and are always a little behind.
It's not that I want to promote chaos in your business, but these areas are always changing, improving, and should remain flexible. If you overbuild something, then for one, you're probably spending too much on it, and two, you're likely to scrap a good part of it as processes evolve naturally. And they will. Letting your internal processes stay in catch up mode isn't such a terrible thing in most cases.
5. Always Market & Sell
This may seem obvious, but most small businesses have up and down cycles when it comes to sales and marketing. The smaller you are, the more likely you win a big project and spend a ton of time providing your client with the best service you can. Of course that's great, but you have to factor in time to keep your sales and marketing efforts moving.
In a down cycle, you should dedicate every resource you can to sales and marketing. But in an up cycle, when you're resource-constrained and working on one or more large projects, you should plan 20% or so of your time to continue your sales and marketing efforts.
This is crucial to longevity. And it's so easy to stop the effort to put out fires. When you do your project planning, your sales and marketing efforts should always be added to the resource calendar first and then client projects.
Take it from a guy who's been complacent in this area too many times and become lost in the up cycles only to wallow in the inevitable down cycles. It makes business difficult and intolerable and not worth doing if you can't maintain consistency. Don't be complacent in your sales and marketing efforts.
Final Thoughts
There's a lot to learn when starting and running a successful agency. If you can learn and execute these 5 key elements then you'll be on your way to that golden palace on the hill. Or at least a more successful, comfortable, and stress-free business - which is worth its own weight in gold.