These days, most business people realize the importance of search engine optimization (SEO) to positively impact visibility for their business. That said, many organizations, especially small businesses, still don't realize the significance of local optimization for their website. I'm here today to tell you local SEO is critically relevant and that it should be part of your marketing plans (if it's not already). This article isn't intended to sell my belief, but I'll throw out one stat to support "why you should care about local search" before I move on to "how you can improve your local optimization."
Today, just under 50% of all searches in Google have "local intent" (Search Engine Roundtable).
Hopefully, that single statistic is enough to convince you, that if you have a local or regional business and you want to be found by potential customers, local SEO is critical to your success. If so, below is a list of sixteen items, including the most important local SEO ranking factors, to boost your local and regional search engine optimization, and to enhance your website traffic and visibility for your brand.
Local Keyword Research
Start with the basics. Before you can develop a plan to improve your search rankings, you first need to understand how prospects can find you and how they will search online for your type of business - and that includes location-based indicators and keywords. Let's say you live in Indianapolis (like me) and you own a pizza restaurant. You'll want to define general terms you want to rank for like "pizza", "pizza places", "pizza delivery", "gourmet pizza", Italian restaurant", etc. But you'll also want to define location-based terms like "Indianapolis pizza", "pizza near me", "pizza places near me", and "best pizza in Central Indiana" as well. There are many tools available for keyword research including Google Keyword Planner, SEO Moz, and SEMrush, but you can also use free tools like your basic Google search screen (Google Suggest) or Yelp to define targeted search terms you want to rank for.
On-Page SEO / On-Site Optimization
Once you have researched and prioritized your keywords, your next step to improve your search rankings is to make sure you have a high-quality website, with unique, relevant content, that drives engagement and promotes credibility for your business. Sometimes websites have a user-friendly structure and quality content, but forget the blocking and tackling required for SEO success, either because the site developers lacked expertise in regards to optimization best practices or because they decided to shortcut the process for higher profits. Make sure you don't shortcut the process of implementing on-site SEO basics including unique browser title tags, meta descriptions, and search-friendly H1 titles. If you are starting from scratch with a new website, you'll also want to make sure you have a web content management system (CMS) that has tools and functionality to support SEO best practices.
Mobile-Friendly Website Design
Website usability has been important to Google for many years, and the most important usability factor today is to have a mobile-friendly, responsive website, so that site visitors can easily access information regardless of the device they use. By the end of 2018, 52.2% of worldwide website traffic was from mobile-phones, so having a mobile-friendly site should be a no-brainer. And while having a responsive web design impacts all search optimization, it impacts local SEO as well.
Google My Business Profile & Map Packs
Last year Moz (or SEOMoz) ran their annual "Local Search Ranking Factors Study" and listed a company's Google My Business (GMB) site as one of the top-ranking factors for local SEO success. In fact, they found that the #1 ranking factor for ranking in Google's Map Pack (or Local Pack) was your GMB Profile, as a significant amount of people will find your business for the first time because of your My Business listing. Moreover, recent studies show Local Packs or Map Packs get between 29-32% of local SERP (search engine results page) clicks, which is almost as high as the 44-51% that click through to regular, natural search results.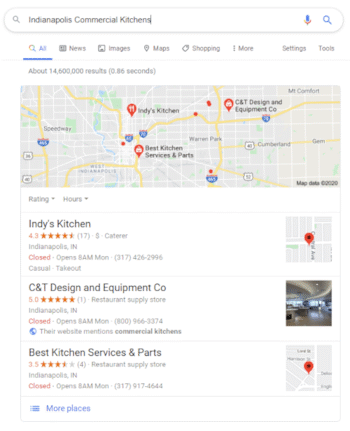 But just having a Google My Business profile isn't enough for your business to rank high in local Map Packs. Your profile also needs to be 100% complete, with content and structure that match your website, as well as NAP citations from around the web. In other words, your GMB profile should be as consistent as possible regarding your business, and your products and services. Start by selecting your main business category, but don't forget to also list secondary categories that tie into your keyword targets. Here's a useful tool from PixelCutLabs®, a Google Sheets version of the roughly 4,000 Google My Business Categories. Once you have selected your business categories, make sure to provide a detailed business description, while also filling out the services and products section, as that detail and consistency with your website are important. Finally, when filling out your business address, make sure your nomenclature is consistent between MNB and your website. Sometimes differences like "Avenue" vs. "Ave." or "Road" vs. "Rd" can confuse Google and hurt your results.
Bing Places for Business
Google is by far the most important search engine, but Bing still claims a decent market share (6.38% in the United States), so also make sure to claim your Bing Places for Business account. Below 7% may not sound like much, but in the word of search 6.4% can mean a whole lot of searches. And because many small businesses won't focus on Bing, so you may be able to rank higher on Bing with less effort.
Ongoing Local Content
Above I mentioned that on-page SEO basics are important for your local results. Closely related to that is making sure you also have a content strategy, for both your new website as well as ongoing site updates, that includes local content. As you develop your content plan, consider what content will enhance your business credibility and/or engage viewers, what types of content you can add over time, and how you might add a local flair to that content. If you're in construction, "project pages" that include information about local projects (NOT JUST Photos) are great. "Case studies" work for consulting. "Success Stories" can be effective for physicians. Blog posts, events, and promotions/specials are content that can easily include a local twist for businesses in lots of different industries. In all cases, make sure to include text related to the location of the activity, as well as related metadata (title tags, etc.) to boost SEO.
Create a Dedicated Webpage for Each Product or Service
Often times, small businesses will cram lots of information about all of their products or services onto one "Products" or "Services" page, usually to save a few dollars on the cost or their website or because they don't want to spend time writing content. If you hope to rank well in search results (local or nationally), this is a mistake. Instead, create a unique page (or pages) for each service or product you hope to rank for in search results.
Online Reviews
93% of consumers take online reviews into account when making their purchase decisions, which is one of the main reasons why Google factors reviews or "review signals" into its local (and national) search algorithm. Moz's local ranking factors study listed "Review Signals" as the 3rd most important factor in Google's Local/Map Pack ranking and 7th most important factor in localized organic rankings. It is my belief that "Google Reviews" (part of a businesses Google My Business Profile) are the most important review site to focus on, but Google also tracks other review sites (Yelp, Facebook, Angie's List, Better Business Bureau, Yellow Pages, etc.) as well. Additionally, Google may also utilize industry-specific review sites (Healthgrades or WebMD for doctors; Lawyers.com or Avvo.com for attorneys) in its ranking factors.
The Moz study specifically mentions that overall review (star) rank is important and that negative reviews on your GMB profile can negatively impact your ranking. This isn't that surprising, as Google has stated many times in the past that the "trustworthiness" of a business is a foundational factor in its ranking. Additionally, the study shows that replying to reviews (both positive and negative ones) positively impacts your rankings, probably because it indicates your business is service-oriented and customer-focused.
So your take-a-ways should be to 1) ask customers (especially happy ones) to leave reviews, 2) make it very easy for them (if even remotely difficult they won't do it) and to reply to every single review you receive.
Local Directories and NAPs
Links to your website or "link signals" are one of the top SEO ranking factors for both local search and search optimization in general. What this means is that the more links (that are relevant to your business or services) and the quality of those links help your site to rank better. One fairly easy way to get links is to post your company information to online business directories such as Yelp, MapQuest, the YellowPages, Yahoo Small Business, and Manta, just to name a few. Additionally, you can also post your information to local directories (like the Denver Business Directory) and industry-specific directories such as ThomasNet or Mfg.com (for manufacturing companies).
Directories are one way to get links, but they also impact local search because they contain NAP citations - places where your business name, address and phone number are all listed out. NAPs are important because Google and other search engines use them to confirm your business information and its accuracy. When the NAP information on your website matches Google My Business, as well as the information on lots of other sites, it lets Google know that info is correct.
When creating company listings, make sure your NAP information (name, address, phone) is 100% consistent on your website, GMB, and all directories, while also creating backlinks to your website and proving detailed and consistent descriptions of your business. You should also do a NAP Audit to check information about your company that is already online in various places and fix any incorrect, outdated, or inconsistent data. The more old information listed about your business online (old phone numbers, addresses or website URLs) the greater the negative impact on your search rankings.
Creating and fixing your company data across online listings can be a lot of work when done manually, but there are various tools such as Yext and Universal Business Listing that can simply and quicken the process.
Link Building and Citations
Getting listed on national business directories and linking back to your website definitely helps your SEO, but links are even more valuable when they are relevant. For example, if you were an eco-friendly construction business in Indiana a link from the U.S. Green Building Council would be a valuable national link, while a link from the Indiana Green Expo Trade Show would be a valuable local link. Google recognizes both the relevance and quality (domain link authority, etc.) of your links in its algorithm. There are lots of strategies and tools to assist in generating citations and high-quality backlinks including guest blogging, setting up partnership programs, or reaching out to local influencers via email or on social media to encourage linking to your site. That said, creating relevant, quality content on your website (and social media) is still the best way to promote content sharing and link building.
Social Marketing and Social Signals
The importance of social media marketing to search rankings has grown significantly over the past 5-10 years and can be broken down into two main categories. The first way social media sites impact SEO is via links. Every one of your business' social media sites link back to your website from the profile section, so you are starting with at least one very relevant link. This multiplies as many of your social media posts also link to your website (or should). Then as people forward or share your content, you get an additional multiplier effect of more links back to your website. And this says nothing of the additional brand recognition that you'll receive. The second way social media sites impact SEO is through engagement. Google and other search engines measure engagement including reviews, likes, and mentions, in addition to link value.
Because of the positive impact social sites can have, I'd strongly recommend all businesses have at least a Facebook site and that all B2B focused organizations also create a LinkedIn business site. Additionally, you should strongly consider Twitter and Instagram as well, even if you aren't very active. If you fear that you won't have the time to add any content to these sites, consider leveraging your website content (blog posts, etc.) content across multiple sites, possibly via automation. This is an easy way for small businesses to leverage small content marketing budgets and to create links back to your website.
Local PR
Remember earlier when I mentioned that relevant links are more valuable. That includes business or industry relevance, but it also includes local relevance. Getting links from local news or community-related websites is another way to boost your local search ranking. Find out who your local newspaper contacts are and send them information related to company events, product introductions or news - it is often a great way to boost your SEO, while also getting free publicity! You should also check out community websites, including your local city and state chamber of commerce, as they'll often allow members to post news and PR to their websites for free, including links back to your site.
Location Pages and Google Maps
If you serve different areas in a region, another successful strategy can be to set-up location-specific services pages on your website. For example, if your kitchen remodeling business served the northside of Indianapolis, you might consider having an "Indianapolis Kitchen Remodeling" page, as well as a "Carmel Kitchen Remodeling" page. For this type of strategy to work, however, it is a necessity that each page has high-quality, 100% unique and local content for each location.
If you have multiple physical locations (like 3 restaurants that are part of a chain), make sure to have separate contact/location pages with embedded Google Maps instead of listing all the addresses on the same page, as this will support local optimization. If you only have one location and only do business in that general area - consider embedding a Google Map on both your About and your Contact pages.
Local Blog Tags
If you have a blog (and I suggest you do), you should develop a tagging strategy that makes it easy for visitors to sort through your articles, but that also supports SEO with tags related to your targeted keywords. Say you're a remodeler in Indianapolis, you might want to have tags like "Indianapolis Kitchen Remodeling" or some related to Indy suburbs you work in like "Carmel Bathroom Projects" or "Outdoor Kitchens in Fishers". You do need to have content that relates to those locations, but you can significantly boost your SEO results if you do.
Website Speed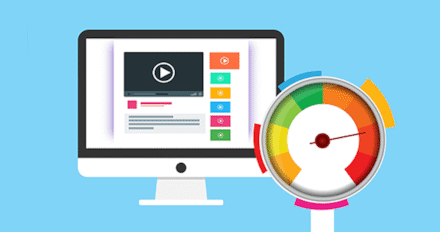 The faster the website, the better the user experience, and we all know Google values that. To maximize your site for national or local SEO, make sure website speed is optimized. Lots of things can slow down your site, from slow-loading images that are too large or not compressed, to poor code, to a slow content management system (that lacks caching, a CDN, or speed optimization features). There are lots of free tools out there to measure site speed, so make sure to do periodic checkups.
Personalization
One of the newest ranking factors that came out of the last Moz survey, was the addition of personalization. A unique or personal experience on a website, where the visitor can interact with content that is more relevant to them, is viewed as superior to an experience where everyone views the same generic content. So as you plan for the future, consider solutions that support website personalization and that will help take your marketing to the next level, while also supporting your search engine optimization objectives.
Need Help with Your Local SEO?
If you have questions about your local search optimization strategy or need assistance, please let us know. We'd be happy to help.

Resources/References:
https://backlinko.com/local-seo-guide
www.wordstream.com/blog/ws/2018/10/12/local-seo
www.searchenginejournal.com/local-seo/local-search-ranking-signals/
www.itdwebdesign.com/blog/top-8-local-seo-ranking-factors