Marketpath CMS was developed to meet the needs of marketers, as well as developers, with effective and easy to use SEO tools and functionality, right at your fingertips. With Marketpath, search engine optimization fields are built into the CMS, right on the page, and not as part of a plugin. This provides a number of benefits versus some other content management solutions.
Benefits
Because every page includes fields for on-page SEO, like the title tag and meta description, you don't have to worry about plugins, modules, or extensions which affect your search engine rankings. Consider the following ranking factors:
Reliability - No plugin or extension means no breaking of your site from conflicts.

Security - Outdated plugins leave your website vulnerable to hackers.

Speed - Yoast, a popular WordPress plugin for SEO, has been shown to increase average page load times by 1.03 seconds.
What's more is the fields are consistent across all sites you manage in Marketpath. If you manage multiple websites, each website could use a different plugin. This means different interfaces and fields per module. Because Marketpath's web content management system includes fields for SEO, you know where the fields are and how to update them, instead of hunting, fixing, and hoping
Now your time can be spent on marketing or developing, and not managing, using, or troubleshooting plugins.
In Action
The first field you'll come across when creating a site page or a blog post is the Title field. Unless otherwise specified in the template, this field sets the H1 of the page.

The second field that appears is the URL (a.k.a. slug and file path). This field automatically populates from the Title, and is structured according to best practices (i.e. lowercase and with hyphens). However, you can also take additional time to optimize the URL, based on professional SEO methodologies, and Marketpath CMS makes this easy.
Next, you'll see the Browser Title field, or Title Tag. Again, Marketpath CMS automatically populates this field with the Title content, but you can easily edit as needed.
In addition to the basic Browser Title field, Marketpath CMS also has functionality that allows you to set up prefixes and suffixes to programmatically append the meta title tag. By adding text in the Default Browser Title Prefix and Suffix fields this information will automatically appear also.
For the example below, we have "Marketpath" entered as the Default Browser Title Prefix and "Indianapolis, Indiana" as the Default Browser Title Suffix.

Lastly, you'll arrive at the Advanced accordion, which once expanded displays the following fields: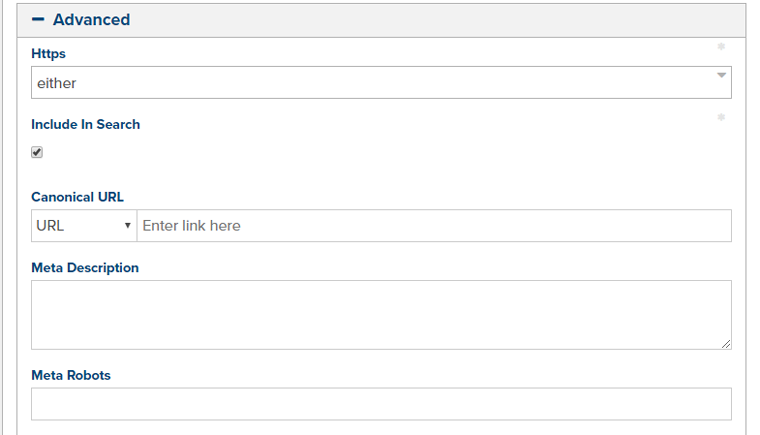 Image Optimization
A discussion on on-page SEO wouldn't be complete without talking about Alt text. Moz offers a thorough discussion of alt attributes and uses, but adding alt descriptions to images is part of the process of adding an image to the CMS.
When you upload an image to Marketpath, the file name is inserted into the Alt text field. You can choose to override this value to enhance web accessibility and search engine crawlers.

If you want to insert this image on a page, you again have the option to override the default alt attribute to make it specific to this inserted image.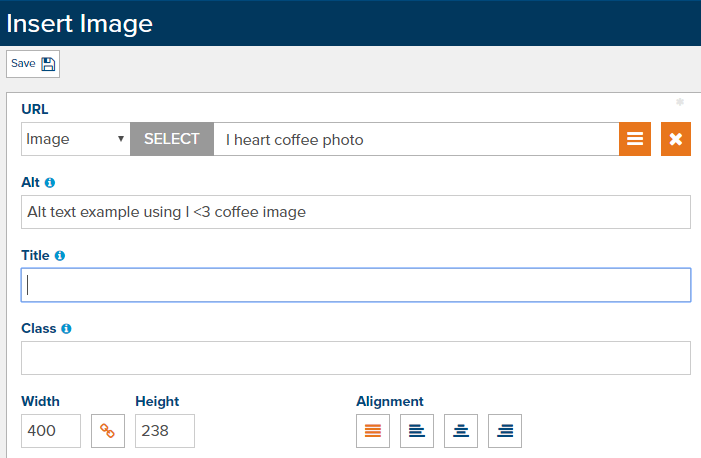 Ready to learn more about Marketpath's SEO features?