News Year's day came and went for me with little fanfare and many reflections on the poor decisions I made the night before. After the umpteenth reminder to myself that I'm not 25 anymore (and a little extra sleep) I began to think about all the great things planned for Marketpath this year.
So, Happy New Year! It's officially 2019 and we're insanely excited because this year we're not just building Marketpath CMS, we're in all out sales and marketing mode. We'll be pitching Marketpath CMS to other digital marketing agencies a lot. We built it, after all, with agencies in mind. If you're a current customer, don't worry. This won't affect you or the service and support you've come to depend on.
In addition to our sales & marketing pivot, we have a number of new features and improvements planned for Marketpath CMS. If you have a few more minutes, read through these and send us your thoughts and any of your own ideas. Our goal is to provide you with the best content management experience available and simplify your site editing and development tasks. We wish you all the best in 2019!
1st Quarter 2019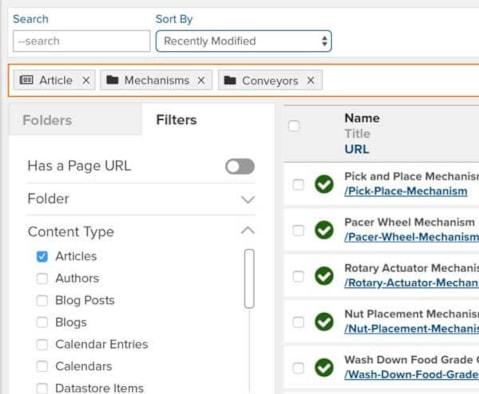 Entities can only have one folder. In the past, you were allowed to assign an entity (article, image, document, blog, etc) to more than one folder. We're putting the kibosh on that because we have bigger plans that require a single parent folder. Any sites using multiple folders will be updated, at no expense to customers, to a different method that meets the same goals.

Stability improvements. These updates aren't as exciting as user interface updates and new feature additions but they are equally, if not more, rewarding in the long run. Stability improvements impact service availability and speed, reducing the number of bugs and other issues we encounter.
2nd Quarter 2019
Package manager. Two little words, one enormous undertaking. The Package Manager is our solution to plug-ins available in many open source systems. While plug-ins may be helpful in many ways, they are often insecure and can crash your entire site if not updated regularly. The Marketpath CMS Package Manager will allow both developers and content editors a simple way to pull in various templates, libraries, and other widgets. Want to download that sweet gallery you saw on another site? Get it with the package manager. Want to change your contact page from a single location to one with multiple locations? Use the package manager. Want to use a site template from your own private agency repository? Use the package manager. The use cases and benefits are endless and we can't wait to put it in your hands.
3nd & 4th Quarter 2019
Automated Event Management. This event handler will perform functions based on event triggers. For example, when a visitor submits a form, you can send them a thank you email, add them to your email marketing list, and add them to your CRM database (like Salesforce). This system will include integrations with outside platforms, like Twitter, Facebook, LinkedIn, Salesforce, Mailchimp, Zapier, etc.

Content Personalization. With just a few clicks of the mouse, you can change what a visitor sees on your site based on their prior activity, what you know about them, or where they came from. For example, if they downloaded a white paper, show them the next step in your conversion funnel rather than showing the same white paper download. Or give them access to an exclusive deal that other visitors don't see.

GDPR Tools. While content personalization is increasingly important for successful websites, anonymity is also increasingly important according to European regulators and an increasing number of US states. Marketpath CMS has some GDPR management capabilities for developers already but will be adding new visual-based management capabilities for site admins.