Schedule your content to publish or unpublish with a few clicks of the mouse with Marketpath CMS' content scheduling feature. Whether it be a contest, a promotion, a product update, or an event, you won't need to wake up at midnight, work after hours, or on the weekend to click a launch your content.
The content scheduling functionality allows users to schedule content at a certain time on a certain date and within a certain timezone. In the same dialog, editors can also set an unpublish content for a certain time, date, and time zone, and the content will automatically expire and remove itself from your website at a designated time.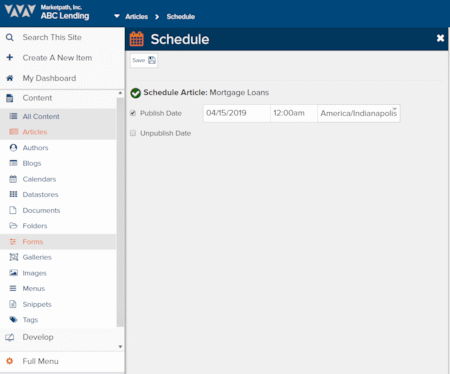 If a mistake was made when scheduling a content publish or unpublish, updating the time, date, or time zone is easy. Simply click the "Save and Schedule" button again to update the information.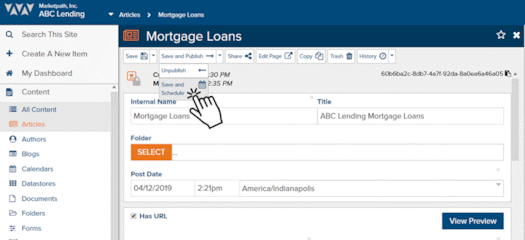 If you begin to heavily adopt the content scheduling functionality, it could be confusing to know what is scheduled to be published or expire. Not with Marketpath CMS, as icons are used to easily identify the status of website content.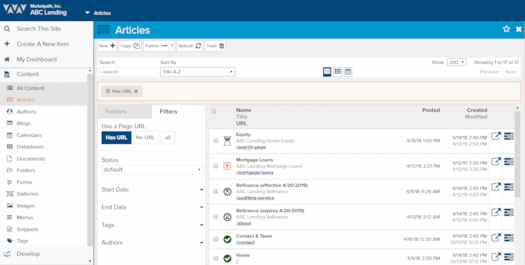 When you think of content scheduling, blog posts probably come to mind. Why stop there? In addition to updating current website content, the content schedule feature can be used to launch a new landing page, microsite, calendar event, form, or navigation menu item.
Calendar Event

Navigation Menu Item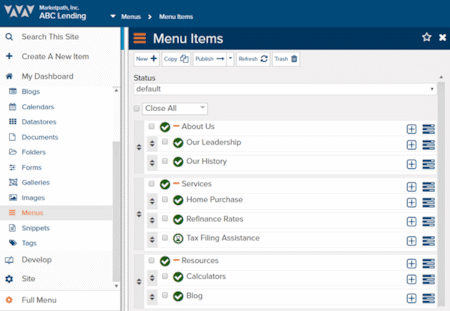 Benefits of the feature:
Time-saver: With content scheduling, you're able to set aside a block of time to create or update content, as opposed to interrupting your workflow or setting manual reminders for yourself.
Time-zone friendly: Go-live with content when you're offline (even if your visitors aren't). You've just avoided working during your free time.
Consistency: Coordinate your content launch or conclusion across all forms of media.
Analytics: Looking to see how content performs across time frames? You now have an automation tool that can help you get a baseline for performance.
Minimize distractions: Bulk create and schedule content in one sitting or frame of mind, instead task switching to publish the content or campaign at a specific time.
If you're ready to schedule your content now, sign up for Marketpath CMS and see just how easy it is to use to manage your content.