Blogging for your business is a great way to reach individuals in your marketing funnel. You can increase awareness, provide additional information for consideration, and help to seal the deal with prospects. Your company's blog should supplement your overall content marketing strategy, and can be another tool to tackle the trendiest tactics like topic clusters, videos, and influencer marketing. Read on to see why you need to blog to reach your audience and help them to make it through your funnel.
---
Awareness
This stage is all about pulling prospects into your funnel. Content at this stage should educate, entertain, and inspire.
Including a blog on your website will give you a 434% better chance of being ranked highly on search engines, which can lead to 55% more visitors and 97% more inbound links. (Hubspot)

On average, companies with blogs produce 67% more leads per month than those without. (DemandMetric)
Just having a blog with posts will help you be found on search engines. What's more? If you have other websites will see your content and will begin to link to your site. The result? More traffic to your website increases your ability to educate and entertain.
Adding posts to your blog is something that you will do over time to promote events, support marketing and sales, and to tout successes. You'll get there, just stick with it. As you grow, consider adding 16+ blogs a month to get 3.5x more traffic! (Here's a great resource for the Impact of Monthly Blog Posts by Traffic and Leads segmented by Company Size and B2B vs B2C by Hubspot).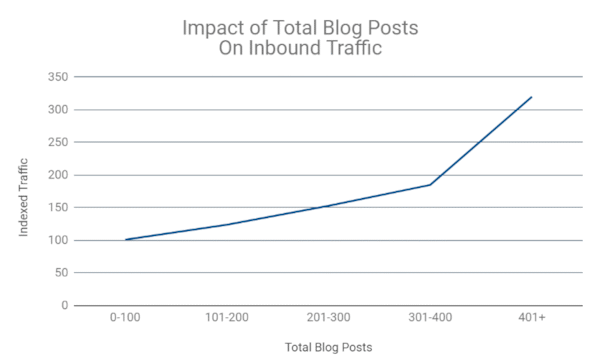 Frequently publishing original content is a powerful signal to search engines that your site is relevant and useful

. (Hubspot)
Adding blog posts to your website is just one way you can add content to your site. Since search engines use "relevant and useful" in their ranking algorithms, you'll see increased traffic.
The average time spent reading an article on websites is 37 seconds.

(NewsCred)
If you're targeting top-of-funnel visitors, try to keep your blog posts short or add visual elements as 37 seconds is not long to capture their attention.
---
Consideration
Prospects begin to turn into leads and want to find solutions to their problems in this stage of the funnel. Content should include more data, results, and can be a little more lengthy.
Blog posts have been rated as the fifth most trusted source for accurate online information. (Hubspot)
Give your readers useful, insightful content on a regular basis. They'll trust you more and continue to seek out your content. This can include influencer and guest blog posts for more resonance with your visitors.
Give them more of what they want. Help to guide them to the decision stage with facts, figures, success stories, and other pertinent information to help them answer questions or solve their challenges.
Per dollar, content marketing generates over three times as many leads as outbound marketing and costs 62% less. (DemandMetric, Kapost)
Since blogging is part of content marketing, you already have content you can post or repurpose to post. Not only are you saving labor hours and costs of advertising, the return will be over a longer period of time, instead of a flash in a pan.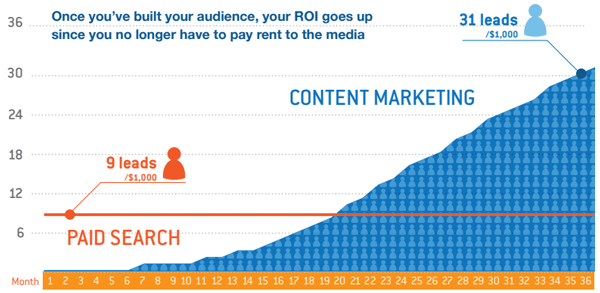 Interesting content is one of the top 3 reasons people follow brands on social media, especially for over-35 year olds. (Streetbees)
Blog posts are just part of your overall marketing initiatives. Using blog posts is a great way to provide content to your audience using other media, like social media. While the primary reason for these updates would be for consideration, you'll also create some awareness.
Internet users in the US spend 3x more time on blogs than they do on email. (Source)
If you have a drip email campaign, your website visitor could be part of the list. However, if this lead has a challenge, heighten the chances of them finding a solution by also posting content topics from your emails to the website. Chances are they might not read your email.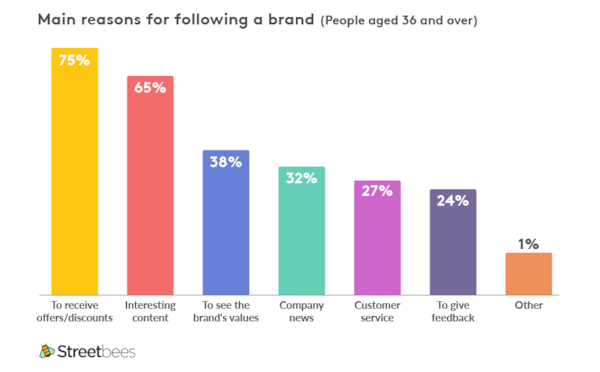 ---
Decision
This is the final stage before leads become your customers. Visitors will want to hear how your business can help them to fix their problem or optimize their company. Continue to be customer-centric, and not promotional. Blog posts highlighting case studies, customer results, and customer testimonials are the most impactful at this stage.
Marketers who prioritize blogging efforts are 13x more likely to see positive ROI. (Hubspot)
Your leads will have found you and determined your product might be just the solution through previous blog posts. You've gotten visitors this far, and now you can help convert them to customers and obtain that return.
47% of B2B buyers read 3-5 blog posts or content pieces prior to talking with a salesperson.

(Demand Gen Report)
If you didn't have blog posts to support your product or service, then customers wouldn't have the information they needed to make the choice to pick up the phone or agree to talk to a salesperson. Blogs help you to help the customer!
66% of consumers will buy from a certain brand, beyond price and quality, because they do what they say they will do and delivers on it. (Accenture)
---
Loyalty & Advocacy
Once your visitor is now a customer, it doesn't stop there. Provide customers with relevant, engaging content that will help them grow their business and continue to thrive — they decided on you for the value you offered.
66% of U.S. consumers spend more on brands to which they feel loyal. (Accenture)

62% of consumers think transparency is one of a brand's most attractive qualities. (Accenture)
You should be human and conversational. Make your brand as personable as possible. To find topics that might fuel loyalty, involve customers, employees and the larger ecosystem of stakeholders to identify shared values and areas where the company can make a difference.
---
Content should always engage, delight, and educate, and blog posts are no different. No matter the step your buyer is in, blog posts augment your brand's equity and help you to grow along with your customers.