If you're reading this then your agency is already doing agile marketing or you have an interest in how agile marketing can help you enjoy growth, have more satisfied clients and employees, and quickly respond to changes.
Looking for a comprehensive article on Agile Marketing, then check out Andrea Fryrear's article "What is Agile Marketing?" Andrea is president of AgileSherpas.
Agile Marketing Values
There are seven values from the Agile Marketing Manifesto and each is explained below. Using these values, let's see if your CMS supports your agile approach to marketing.
1. Validated learning over opinions and conventions
Learn by trial and error. If you're a marketer, you're familiar with A/B testing. In Agile Marketing, the emphasis is learning by doing and not solely rooted in best practices. What works for others may not work for you or the audience you're trying to reach.
The way you manage websites should reflect your curiosity to test things without having to bother your developer. Are you able to easily implement the following on your website or landing page without having to call a developer?
Have one landing page that changes content based on the visitor's persona?
Reuse elements of pages across many pages without having to go to each page to update the content?
Leverage multiple conversion types (i.e. forms, buttons, links) across pages in a few clicks?
No matter what the goal is, your CMS should allow you to carry out your ideas to see if it is worthwhile to iterate on the test or to implement elsewhere.
2. Customer focused collaboration over silos and hierarchy
Websites are developed for your clients' audiences. Are the websites you deliver also developed for the clients who will be managing them?
Don't overlook developing the front-end management of the website so it's easy for the client to make changes and additions.
Being customer-focused means keeping the client in mind and developing for their skill level.
As part of your discovery process, do you determine who will be responsible for keeping the website up-to-date? What are their technical abilities? Calls from frustrated customers are never something we look forward to receiving.
3. Adaptive and iterative campaigns over Big Bang campaigns
I've been a part of marketing campaigns set to run for a year that took months to plan and implement. If we missed the mark there were no take backs or redos. We'd have to scrap what we'd done, and start at some previous point.
Ring a bell? Not only can campaigns benefit from being broken up into pieces, but other parts of marketing strategies can too, including website design and development. For your next website project, consider Iterative Web Design, or delivering pieces of the website in phases. HubSpot featured a blog post about "3 Reasons Why Agencies Should Invest in Iterative Web Design".
Here's a comparison of the typical web design & development process to iterative web design & development.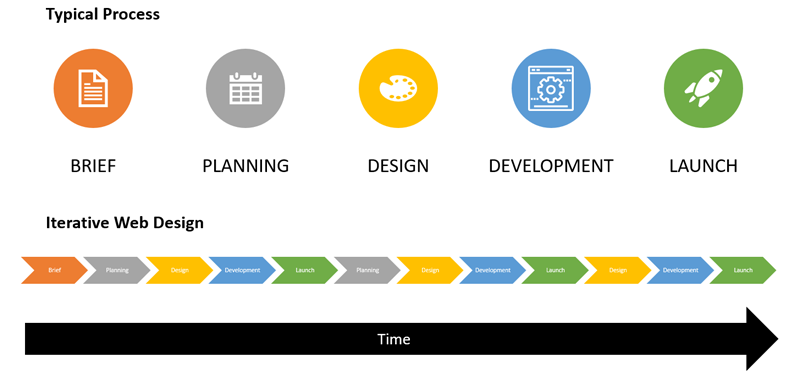 4. The process of customer discovery over static prediction
You've researched and segmented your audience. You have an idea of how your personas consume information and what they like, which means you know how to target and appeal to them. No matter your objective, you're ready to start marketing to them.
Let's say your research shows Christy Consumer prefers blog posts to videos. Who has time to watch the whole video when you can scan the article for nuggets of information? You begin pumping out blog posts catering to Christy but you're finding conversion rates just aren't there. What could it be? The topics should resonate, the medium was found to be preferred, maybe it's the tone or the graphics. A lack of or unclear call-to-action?
Or, could it be our research led us astray? Could Christy really prefer videos or maybe she gravitates to testimonials or reviews? Good thing we didn't put all our eggs in one basket.
5. Flexible versus rigid planning
I entered marketing through project management. During every planning phase, I would complete a risk analysis and mitigation plan to anticipate when conditions could, and always did, change. Dwight D. Eisenhower said, "Plans are worthless, but planning is everything.", and I wholeheartedly agree.
As you plan build in extra time, perform a high-level or mental risk analysis, keep up with industry trends, and pay attention to data. Timelines may shrink or stretch due to priorities or client availability. Your client's leadership may surprise you with the dreaded "Swoop & Poop" and now your team is left in the wake. If you're undertaking a long campaign strategy and plan, consumer preferences could change.
Plan to adapt.
6. Many small experiments over a few large bets
A marketing plan includes many tactics to achieve goals and objectives. Why not execute these concurrently and in a smaller format rather than executing each consecutively?
Like software development, delivering your plan in pieces (iterations) allows you to deliver quicker and more regularly. Your financial risk is lessened, and you gain data sooner to inform your actions in the next phases.
7. Responding to change over following a plan
This is a holdover from the original Manifesto for Agile Software Development. It means teams should be able to respond quickly to customers, product users, and the market in general in order to deliver relevant and helpful products that people want to use.
You planned to adapt, and now you're ready to react.
Consider the following
No matter the extent to which you do or don't practice agile marketing, consider these scenarios and how easy it is for you to be flexible and react to changes.
You're a victim of swoop and poop during the approval phase of the website.
An intern was hired by your client to help manage their live website.
Your agency just hired a marketing coordinator, and no one has time to train her on how to access each site.
There's no plugin or extension that exists for your challenge or opportunity.
Your client facing a lawsuit because their website isn't ADA compliant.

Developers have to stop what they're working on to switch to this.
Your content editors have to go add alt text to images, convert PDFs to HTML, and create text transcripts for video and audio content.

A site just went down, but your developers are tied up with another major project.
Does your CMS support your marketing?
About Marketpath CMS
Marketpath CMS is user-friendly, easy to navigate, features a consistent interface across all sites, a single login manages multiple sites, includes a managed infrastructure, a help site, and unlimited support.
Ready to Learn More?