The passion you have for your restaurant, its success, and awareness should easily translate into you
restaurant website design Your website provides a digital footprint of your business, and allows potential and current customers to interact with our restaurant in their own way and on their own time. If you're looking for new ways to invigorate your website and engage visitors or looking for a place to start, here are four suggestions for additional content for your website.
Menu
If your website already includes a menu, it probably ranks in the top three pages visited on your site. If your current menu is a PDF, you're losing valuable search engine optimization points. However, having to manage menu items, descriptions, and pricing could be another full-time job.
With Marketpath CMS, you can manage your menu as a:
Document, such as PDF, Microsoft Word, etc.
Link, e.g. Dropbox or Google Drive
Content Area, i.e. using a rich text or WYSIWYG editor
Datastores
Datastores manage information like a spreadsheet, and allow for the information to be displayed consistently and in an organized manner across a website. For example, let's say you offer Chicken Parmesan for both lunch and dinner, but the serving size and sides are different between the meals. You could have one entry in a datastore called Chicken Parmesan. Within this datastore item, fields would be included for menu item name, lunch description, lunch price, dinner description, and dinner price.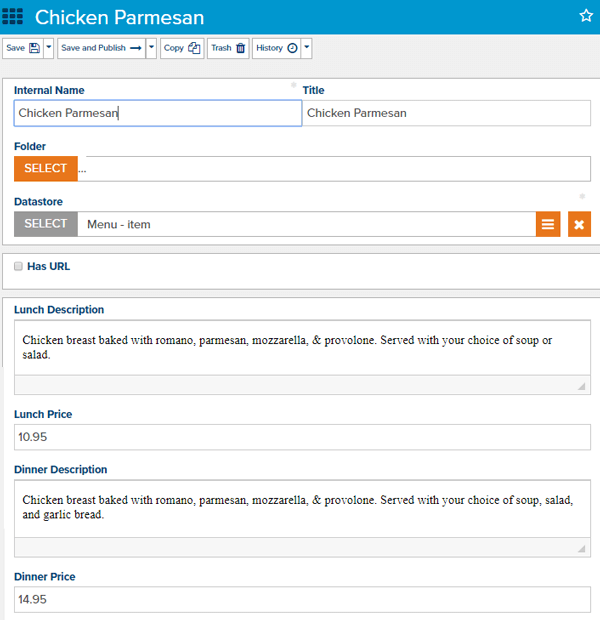 Third-Party Integrations
Keep your website visitors engaged with your restaurant by offering services they crave like OpenTable reservations, read or add to Yelp reviews, online ordering, or stay connected with you by downloading your app.
These embeds can quickly be added to the header, footer, as a secondary navigation menu, or be used across the site but managed in one place as a call-to-action snippet.
Header

Call-to-Action Snippet

Including links to any third-party site you are a part of or including social media allows customers to easily find the information they might or might not be looking for, engage with your restaurant without having to pick up the phone, and helps with search engine rankings (relevant and new content will help with searches, especially for local searches).
Event Calendar
Including a calendar on your website allows your visitors to get a snapshot of the events you are hosting or participating in. You could list days you're closed; events happening at your restaurant such as musical acts, trivia nights, new or special menus, food and drink specials, and charitable dining events; or local events you're participating in or supporting like fundraiser events or farmers markets.
Creating a calendar event is a piece of cake in Marketpath CMS. You have the ability to specify a date and time, add an image, location, details, and even link to another page on your site or an external website. Looking to create a page from the calendar event? Just click "Has URL" and confirm the information that is auto-populated is accurate.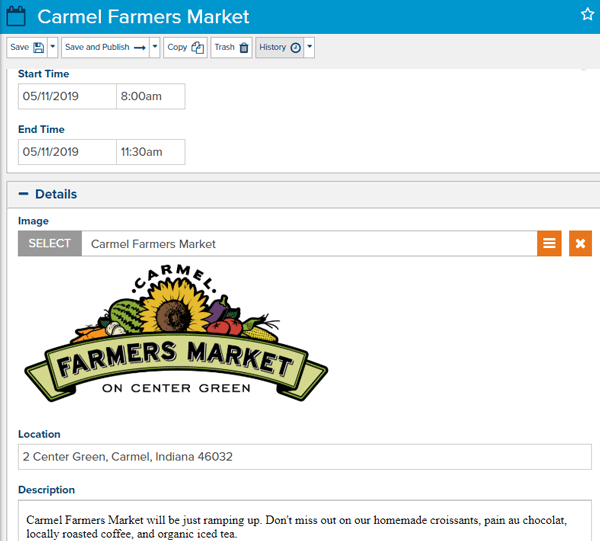 Additional benefits include increasing awareness for your restaurant, improving search engine results rankings (through linking), and offering a shareable link for social media. Just be sure to update it regularly to reap the benefits!
Blogging
Blog posts are the accoutrements to your restaurant and all of the features above. If you dread blog posts, you shouldn't because as a restauranteur the topics to post about are endless and there's no need for them to be lengthy. Plus, blog posts are great for search engine rankings because they check that box of new and relevant content!
What could you blog about?
An upcoming event including a link to your calendar event.
A good testimonial or review, and then reference this blog post as a social media update.
A new dish you want to test out or just added to the menu. Don't forget to include an image then do a social media post.
To tease promotions, new menu items, or a new menu. You can include the link to this blog post in your e-newsletter or do a social media post.
Celebrate a new partnership with a local organization or third-party. It's good for SEO to add backlinks, i.e. a link to the new partner. You can also post this to social media and tag the partner for increased impressions (visibility).
Receiving recognition, praise, or an award. Adding a link to this blog post on social media or in your e-newsletter is also a good idea.
And so much more.
With Marketpath CMS, these features provide you flexibility and efficiency, while allowing you to engage visitors, enhance traffic, and increase awareness for your restaurant. Whether you do these activities now or hope to in the future, we want you to be successful and not make this another chore or responsibility. Bringing awareness to your restaurant should be fun, and the vehicle you use to manage your website should be easy to use.
Get Started
Marketpath CMS features restaurant website templates for you to try. It's free until go live and we offer unlimited support. We guarantee 99.9% uptime, handle the hosting, and provide a free SSL.