For most of us, developing high quality content requires a great deal of energy and time. And promoting that content can also be a sizable undertaking. So, it makes sense that we want to get the most bang for the buck.
One way to do that is to segment your promotional strategy by audience and cater to their unique emotional triggers. This is not rocket science and is a no-brainer for any seasoned marketer. Choose your audience, segment, and target their unique characteristics to entice them to take the next step.
One of the great features of Marketpath CMS can help you do just that. I'm not talking about A/B or multivariate tests, although that's a possibility too. I'm talking about creating content to target specific triggers so visitors take the next steps.
In the following example, I'll show how a college or university could create specific landing pages about the benefits of a college education targeted to high school boys, girls, and their parents.
Defining Targets
The emotional triggers for each of these segments are different. Young women typically want to be inspired with ideas and products that can change the world, while young men typically value outcomes and post-graduation job prospects. Parents, on the other hand, value the total costs, housing details and career statistics of graduates.
For this example, we have a single audience-neutral article about the benefits of a college education. It contains an infographic with general statistics about all college graduates and graduates from their own college. We're reusing the article content on three separate landing pages - one for each of our targets defined above.
Layout
In Marketpath CMS, I've created two templates. One template for the student pages and one for the parents. That hierarchy is shown below. The primary article containing the infographic has three pages derived from it. You can see which template each page uses.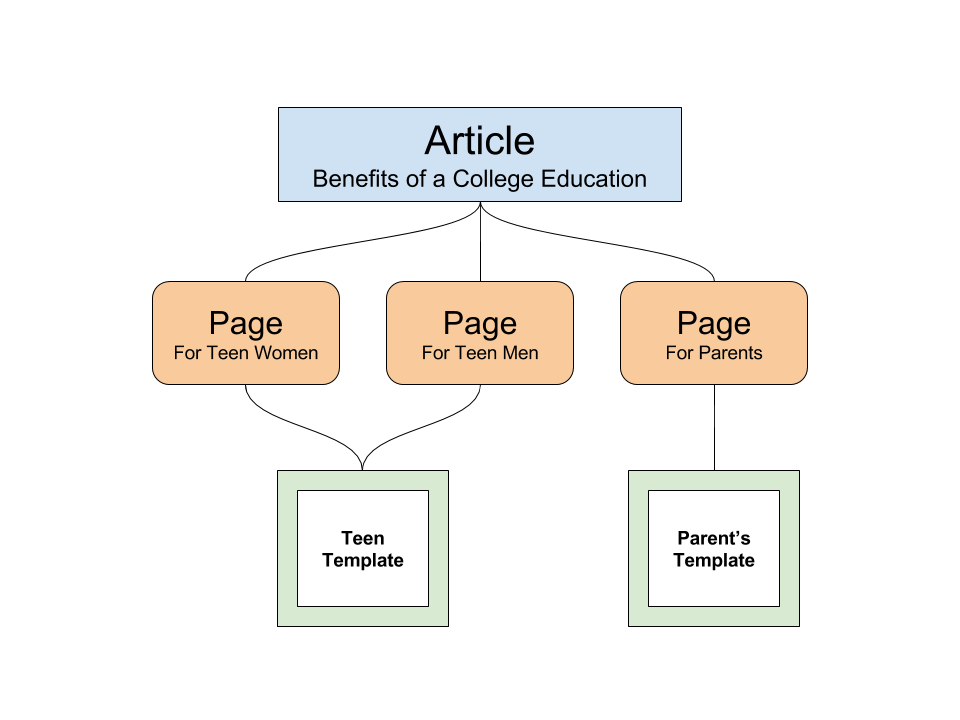 All templates have a custom image field and a stats field (i.e. supporting data) below the image meant to trigger an emotional connection. These are setup as custom fields in each template. A snapshot of the student template's custom fields is shown below. I could easily add additional fields of varying types and pull them into the templates as well.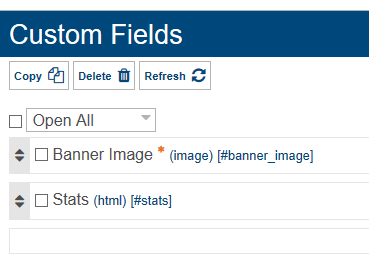 The parents template has an additional html field for a summary that will display below the article title when filled out.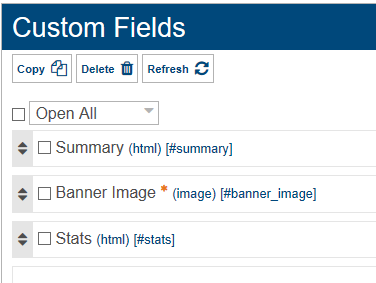 Pages
Now, here are screenshots of each page, completed with content. Notice the right side image and text changes, as does the summary text below the title for the parent page. The primary article content, the infographic, does not change. It is reused for all three pages. Same primary content, different emotional triggers.
For high school boys: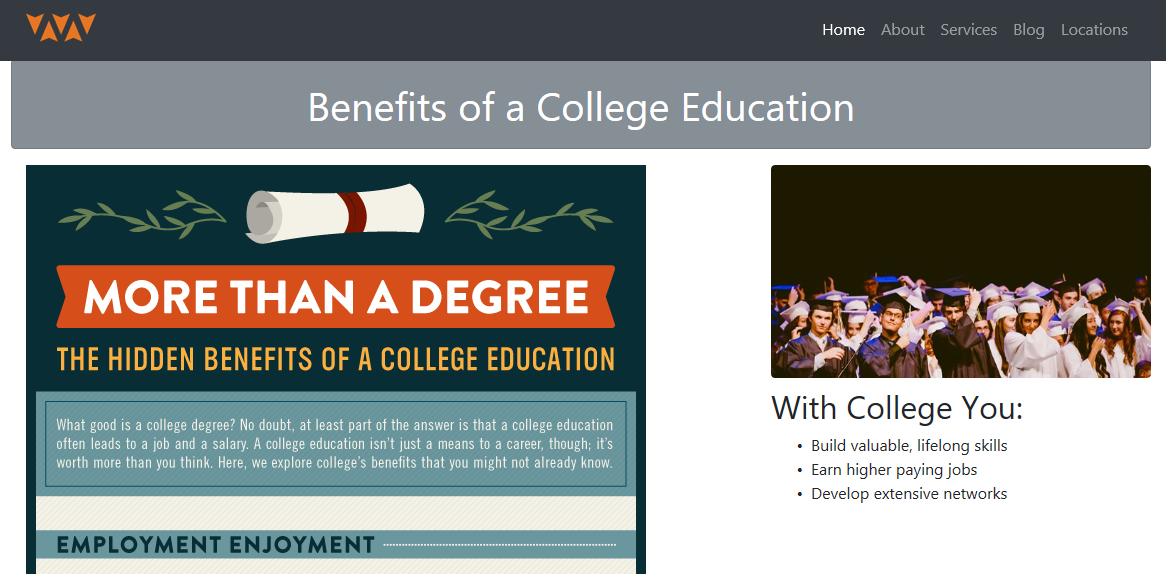 For high school girls: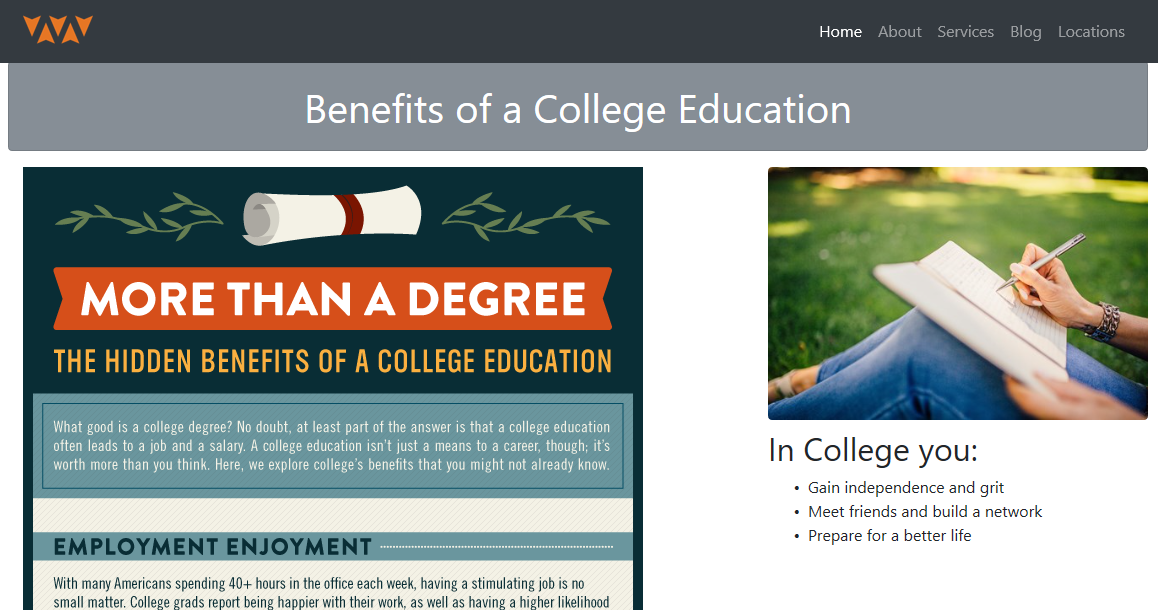 For high school parents: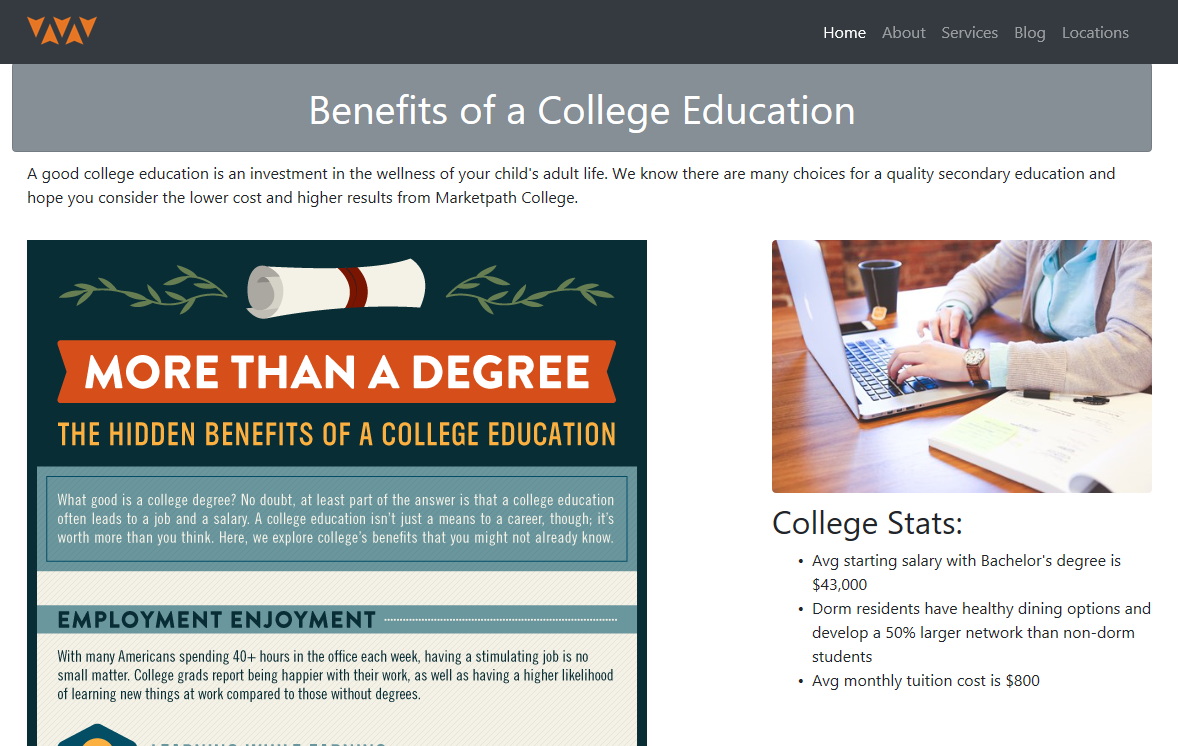 Summary
This is a fairly simple example of utilizing the one article to many pages capability of Marketpath CMS. You also can create multiple pages this way by extending authors, blogs and blog posts, calendars and calendar entries, documents, folders, forms, galleries, images, and tags.
The multi-page feature can also be utilized for multi-lingual sites where you have one central entity (a content object like an article or blog post) and one page for each language.
Sources:
More than a Degree: The Hidden Benefits of a College Education - Rasmussen College (Apr 9th, 2014)
10 Common and Effective Emotional Triggers - Entrpreneur.com (Mar 2nd, 2010)
Three Strategies for Marketing to Millenial Women - Forbes.com (Nov 12th, 2013)
Gender Marketing - The Differences in How Men and Women Receive Messages - uCapture (May 5th, 2017)