Website Design
Posted by
Join Delivra, The Jackson Group and Marketpath on Tuesday, June 20th for lunch, networking, and an opportunity to review best practices to increase your client engagement utilizing your website, print and email marketing campaigns.
Posted by
We had the privilege to attend the event and see IndyCar drivers face off (with their TherAplay Kiddo partners) in an adaptive tricycle race to raise funds and awareness for equine-assisted physical and occupational therapies at Children's TherAplay. Thanks to all the drivers that came out to support such a wonderful cause and thanks to TherAplay for all you do. And keep an eye out for the new Children's TherAplay Foundation website, which will launch in the next few months!
Posted by
A simple mistake with a flashing yellow turn signal results in insights into how habit plays a substantial role in website user experience.
Posted by
As you're finally getting over your holiday hangover and becoming excited about a successful and prosperous 2016, it's a good time to take a step back and make sure you have all of our ducks in a row regarding our organization's digital marketing plans and strategy.
Posted by
If a picture is worth a thousand words, you want to be displaying the sharpest, cleanest and best images to represent your business on your website. Graphics can transform an otherwise bland site into a striking and powerful communication channel for your brand. 
Posted by
So you work for or own a small or medium sized business. You have a website, you're not sure if it is adding any value, but you're also not sure you want to spend the time and money to upgrade it.
Posted by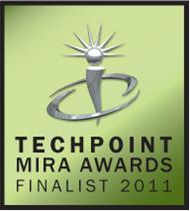 Marketpath is excited to be named as one of three finalists for the 2011 Innovation of the Year Award as part of Techpoint's 12th annual Mira Awards initiative. The Mira Awards, which recognize excellence and achievement of Indiana's outstanding technology industry performers, annually include some of the technology industry's leading companies and individuals.
Marketpath is being recognized this year for a comprehensive internet marketing solution for automotive dealers, developed in conjunction with DriveVelocity, a Marketpath partner who specializes in marketing automation for the auto industry. The solution, branded "Customer Relation Automation," seamlessly integrates a dealer's website, campaign management, and CRM into a cost-effective and measureable solution to dramatically enhance the dealer's communications and marketing. The groundbreaking system seamlessly integrates previously disparate systems and processes, to drive customer interactions and enhanced service, while more clearly measuring results. Customer Relation Automation communicates and gathers data at key touch-points, providing a personalized, multi-channel experience for a dealer's prospects and customers, adding value and enhancing their experience throughout the customer life-cycle.
Congratulations also to Exact Target and i2iConnect, the other finalists for this year's Innovation of the Year Award. Stayed tuned until May 7th, when the winner will be revealed at the Mira Awards Gala. Marketpath looks forward to developing more innovative web marketing solutions in the future.
Financial Health FCU launches new website!
Financial Health FCU launched a new website to highlight their services and financial health tools.