SEO
Posted by
Have a local business? A small business? It might be a difficult decision to decide whether to do more online or offline marketing - online being website marketing and social media and other outlets, offline being mailers, newspaper ads, etc. On average, before a consumer will convert with a business, they will find information about your company seven times
Posted by
So you work for or own a small or medium sized business. You have a website, you're not sure if it is adding any value, but you're also not sure you want to spend the time and money to upgrade it.
Posted by
We have been warning clients and prospects for months now that Google's April "Mobilegeddon" update would seriously impact their position in Google's search results. See the articles below for details:
Posted by
Is your website successful? Does your site support your brand, drive business growth, and bring in sales
leads? If not, it's time to consider upgrading your business website. In the age of technology an informative, appealing, and accessible website has a direct correlation to business growth and credibility.
Marketpath CMS is the web content management and content marketing solution that can convert your website from a static billboard into a valuable marketing tool that can drive business growth. Here are just a few of the reasons why your business should choose Marketpath CMS:
Great Tool Set-
Marketpath CMS provides the perfect toolset to manage your website updates and content marketing. Our software gives your business a stress-free way to manage and update your site even for non-technical people. All updates and additions to the site happen in one place, via the web! Whether one is updating text copy, adding images or videos to a gallery, or creating calendar events, Marketpath CMS does it all! Businesses have the ability to create event registration pages, to build surveys and web forms via our form builder, to work with SEO tools, to create and publish blogs, and more. With Marketpath CMS's breadth of tools and ease, it makes confusing and tricky website marketing effortless!
Support-
Selecting Marketpath CMS means you've chosen one of the easiest and highest rated content management systems available today – one that is currently used by hundreds of other large and small businesses. But that's not all; you'll all receive the constant support of the Marketpath team. With your Marketpath CMS subscription, you'll receive unlimited support for all your website and content management needs. You can call or email at any time and we'll be eager to help with any questions or needs. Need help uploading a case study or document for the first time? We can walk you through it. Forgot how to add a video? We'll help you out. But it isn't only technical support Marketpath can provide. We're also available to provide marketing assistance and guidance when desired. Need advice on creating a landing page or on how to optimize a new page for search? Just ask and we'll gladly provide marketing advice. For many small businesses, with limited technical or marketing resources, Marketpath can be a valuable partner that supports your internal team. One of our strengths is our availability and dedication to our customers.
Website Monitoring and Hosting-
In addition to our support, Marketpath meets all your website monitoring and hosting needs. We track your site to make sure it is up and running and our alerted if any issues arise. We also monitor your website to ensure it is always working at an acceptable speed, so that your users have a positive experience. As a small business it can be difficult to have enough technical resources that have both the time and experience to handle your growing website needs. When you work with Marketpath, you won't need any internal technical support - Marketpath manages it all.
Automatic Upgrades-
With Marketpath CMS your business doesn't have to worry about keeping up with the latest technology trends and changes. We'll add new functionality (new tools, enhancements, etc.) at least every quarter to your software. Your website will never get outdated technically because the Marketpath team works with evolving technology, constantly building it into our software, to improve your digital marketing capabilities. Any new functionalities or technology are automatically made available to your company, so you won't have to worry about it. That's the benefit of Marketpath CMS's Software as a Servive (SaaS) or On-Demand platform.
Web/Digital Marketing Services-
Marketpath not only gives you a great software toolset and support, but also becomes your partner and expert in digital marketing strategy. Regardless of your online marketing needs, Marketpath is there to work with you. With expertise in web design (including responsive websites) and website development, content marketing, site optimization (SEO), and social marketing, the Marketpath team is there to give your business the online presence it needs.
Let us know how we can help your business or non profit or see how we helped other organizations like yours by visiting our website case studies or website projects sections.
Posted by
Google announced that effective April 21, 2015, it will update its search algorithm so that mobile sites will rank higher than non-mobile sites in search results. If your site isn't "Responsive" yet - what are you waiting for?
Posted by
In an earlier post, I talked about the benefits of using Instagram for your business or not-for-profit. Using Instagram as part of your social marketing strategy is a way for your business to visually market products and services, establish your company's personality, create trust within clients, show expertise in your industry, and drive more traffic to your website. However, simply creating an Instagram account won't do these things for your business. Here are some ways on how to best market your company on Instagram!
How your small business should use Instagram:
Hashtags- Just like twitter, Instagram has hashtags. Utilize hashtags! They are a great way to connect with users interested in your industry and for new people to find your business. Think of hashtags as keywords or search terms used by certain social media sites. Using hashtags is a great way to create followers—as people will find your business and photos, based on hashtags that tell users what your content is about.
Interaction- The best way to create a strong follower base on Instagram is to interact with your followers. If a user comments on your post, reply to their comment. If you get a new follower, follow them back. This shows respect and interest in the people that follow you. As a small business these interactions are a great way to display positive customer relations and the attention you give to current and potential clients.
Creativity- One of the great things about Instagram is how easy it is to be unique and creative. Share what your company does in a new light. Each photo can easily be filtered and edited— providing a different view or perspective on your products and services. With tools right at hand, display your product or service in an aesthetically pleasing way. This will instantly catch a user's attention and interest in your company.
Personality- Your Instagram should be more than just posting pictures of your company's product or service. Instagram gives your business the opportunity to really show how your different. Display the whole process of your work. What happens before the finished product? Who you are? What makes you unique? Showing the whole process of your business or client success stories can be a great and easy way to establish your business's personality and make potential customers feel more connected to your company, employees, and work. Show the early stages of your product or service. Show members of your business at work, at play, or involved in any community activities your organization supports. Ad hoc, fun photos allow followers to look at your company as real people. Personal photos on Instagram are also a great way to humanize your business, establish trust within viewers, and make your small business stand out.
Credibility- Another great way to utilize Instagram is to display your expertise in your field. If you're a landscaping company, post tips on how to keep up a garden. If you sell organic food, share tips on healthy eating. If you sell clothing to be worn during outdoor recreation, post pictures of different local hiking spots. By posting tips, fun facts, or anything related to your industry you convey your business's credibility in an easy and fun way. This displayed expertise in your field causes your company to seem reliable and knowledgeable.
Who are you-The easiest, but most important thing to do for your Instagram is to give followers and viewers a way to find your website! When setting up your account, give a short description of what your company does and link your website. This provides easy access to your site so after your posts have sparked someone's interest, they can click on the link to learn more about what you do. Indy CD and Vinyl's simple, but descriptive profile invites one to visit their store and website.
With a few tips to get you started, create an Instagram for your organization and make it your own. Instagram is a unique and manageable way to visually connect with potential customers, develop customer relations, share your company's story, and establish trust. Only a few minutes each day are needed to snap a shot of your product, a new member of the team, or a work in progress!
Posted by
Marketpath Blog: 8 Reasons to Have a Responsive Web Design: With the growth of mobile devices, it is essential that your website is mobile friendly. The growth of mobile devices like smart phones and tablets, and mobile device usage, via games, apps, social media, and websites, it is now essential that your business website is mobile friendly, so that your clients and prospects can easily browse and find information, regardless of what type of device (phone, tablet, desktop, etc.) they are using.
Posted by
Stenz Construction Corporation launched a new website this week to support their growth and to further position their organization as a leader in Indianapolis Construction Services.
Stenz is a full-service general contractor, construction manager and real estate services firm, headquartered in Downtown Indianapolis. Since their founding in 1973, Stenz has built an impressive resume of work throughout the Midwest and across a variety of project types; ranging from interior remodels to complex high-rise construction, and demanding historic renovation and adaptive reuse projects. Stenz's mission is to deliver quality, innovative and cost effective solutions to their partners and clients.
Beau Ansty, Director of Asset Management for Stenz, feels that the new site is a dramatic improvement over the company's previous website and that it does a much better job communicating the organization's heritage, expertise and capabilities.
"We have enjoyed working with Marketpath on the complete redesign of our website. Their expertise on the aesthetic and content strategy has been invaluable", said Mr. Ansty.
The new website, designed and developed by Marketpath, Inc. is structured around Stenz's construction services (general contracting, construction management, real estate services), while also hi-lighting their expertise with specific types of construction projects, including commercial, residential, historic, multi-family, retail, education, religious, and healthcare construction projects. One of the main areas of the new site is the Stenz Project Gallery, which features large, beautiful photography of various Stenz construction projects, showcasing the craftsmanship on display in many of Indianapolis' most significant landmarks worked on by Stenz.
The new site also features the Building Traditions Blog, which will provide information about significant construction projects around the state of Indiana, as well as best practices regarding general contracting, construction management, and historic building renovations and urban infill projects. The site was also developed with search optimization (SEO) in mind, so that Stenzcorp.com receives greater visibility within Central Indiana for their general contracting and construction services. The new site was developed using a responsive (mobile-friendly) web design framework, so that mobile users (phone, tablet, etc.) will have the best possible experience when viewing the site and interacting with Stenz Construction.
Finally, Marketpath worked closely with the Stenz team to develop an ongoing content marketing strategy focused creating credibility for the organization and greater online visibility. The content plan leverages the new Building Traditions Blog, to highlight the company's expertise, while also leveraging visual content through multiple project galleries that feature imagery from Indianapolis area construction projects to hi-light Stenz's quality work. Content syndication via social channels (Facebook, LinkedIn, Google Plus) are also part of the plan. And because Marketpath CMS (website content management) is very easy to use, ongoing site updates and content marketing should be easy to accomplish for Stenz's internal staff.
Learn More
To learn more about Stenz Construction Company, visit their new site at www.Stenzcorp.com and to learn more about Marketpath, visit www.marketpath.com. If you'd like to view additional responsive web designs and sites, visit our Mobile Website Project Gallery.
Posted by
The amount of social networking is immense and ever growing. To market your business it seems more and more social sites must be created and managed. How is it determined which are necessary? With Facebook, Linkedin, and Google+, Instagram does not seem to be a front runner. Yet, Instagram has grown and quickly. With 200 million active users monthly, Instagram has more user engagement than Facebook or Twitter. With this social network's widespread popularity and the growth of visual marketing, every small business and not-for-profit needs to consider Instagram for their social marketing plan. Instagram opens a marketing door full of opportunities not offered by other social networks.
Why your small business should use Instagram:
Visual Marketing- Images instantly draw viewers in and gain their attention on any social network. Solely dedicated to images, Instagram drives constant intrigue of a user. With popping images, easy creativity, and filters Instagram is an easy and unique way to showcase your products and services.
Personality and Trust- One of the top reasons to use Instagram is the personality it gives your company. Connection on a social network creates familiarity with users. Small businesses stand out because of the relations they can provide to customers. All social media precipitates better customer relations; however, Instagram has an edge. Posting personal and behind-the-scenes photos and interacting with those who follow and comment on your account can help customers get to know your business as the people in it and the work they do. Humanizing your company establishes trust with viewers, making them more likely to work or keep working with you.
Credibility- Digital credibility is critical for your online success and Instagram is a great way to establish credibility in your industry. Share your vast knowledge of your field on Instagram through tips, fun facts, or the excellence of your work. As an interior decorating company, a great way to show your credibility would be to post pictures of a spacious living room. Along with your photo, your caption can share tips on how to best place furniture to make one's room look bigger. Whatever your business, Instagram can be a great way to share your expertise.
Traffic to your Website- Images you post on Instagram will leave viewers wanting to know more about your work. A link to your site on your profile and references to specific pages on your site in photo captions will bring more traffic to your website! Additionally, relevant links to your site from Instagram and improved social rankings will help to improve your site's search rankings (SEO) via Google, Bing and Yahoo.
Determining what social media your business should use can be difficult and tedious when they all seem to provide similar benefits. Along with the networking and broadcasting that all social networks provide, Instagram gives your small business personality, builds trust, displays your products/services, establishes credibility, and draws attention to your business and traffic to your website. If you have a strong visual component to your organization (visual products, services, events, etc.), you should especially consider adding Instagram to your social plan. It's vast and exponential popularity along with unique touch make Instagram a social network that cannot be dismissed.
Need Help with Your Digital Strategy?
If you need help developing your overall digital marketing strategy, or executing your social and content marketing plan, contact Marketpath today.
Posted by
We attended Blog Indiana 2012 last week and came away with a new viewpoint on the SEO industry. The two day conference was packed with speakers on various topics, but somehow, SEO always popped into their presentations. The highlight, for me, was Doug Karr giving a presentation titled "SEO is Dead" (full slides at the link). Even with the linkbait-like title, I was immediately intrigued with the topic.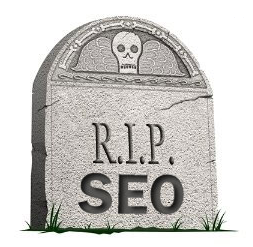 SEO, or the process of gaining higher rankings for search phrases, has been around for around for about 15 years. It has gone through hundreds of changes as search engines have come and gone, evolved, and gotten smarter. These changes always tweaked the algorithm in technical ways, but usually didn't make drastic changes to the landscape of the web. Well, in 2011 and 2012, Google has thrown the industry for a loop. It has taken the complex math and statistics out of the equation and replaced it with something more transparent. Keyword density, linking structure, link profiles, sculpting PageRank, and other statistic & math heavy topics are being discredited or even penalized. Instead of focusing on what search engines want, these new changes seem to be moving search in a more traditional direction on the web. SEO seems to be taking on characteristics of traditional marketing tactics. Content creation, spreading the word socially, and converting visitors to customers are tactics of the new SEO.
Doug presented a lot of data around these changes and they all pointed in the same direction. "SEO is not a math problem anymore, it's a human problem."
What does this mean for you? Well, if you're in charge of your SEO and you haven't embraced the changes that were rolled out in the SPYW, Panda and Penguin changes, you're already late to the party. If you've contracted with an SEO firm to gain rankings and they haven't talked about a content strategy, it's time to evaluate your partnership with them. It also means that if you're a good marketer, but never really understood the link-building stuff, you're in luck. Do what you do best – update your site, create content, and share it to your audience.
SEO isn't dead, but it has definitely evolved once again. This time, it has changed into something that more people are probably familiar with…good old, traditional marketing.
Financial Health FCU launches new website!
Financial Health FCU launched a new website to highlight their services and financial health tools.